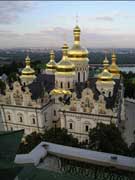 As of Reverend Anthony, he was anxious for seclusion, so in 1057 he left the Far Cave and went to another slope, where he dug one more underground cell, which is now is known as the Near Caves. He spent 40 years there.
Soon after the over ground monastery was built and the monks moved there, the caves were used as a burial place for the members of brotherhood. Reverend Anthony was the first one to be buried in the Near Caves in 1073. The caves were used as a burial place for more than 700 years.
An important event in the history of Kievo-Pecherska Lavra was foundation and construction of the Assumption Cathedral. It took 15 years to build the cathedral. Ukrainian, Greek and Russian architects and icon-painters participated in the process of the cathedral construction. Venerable Alypios, the one who is considered to be the founder of special way of icon painting, which was different from Greek one, also took part in the Assumption Cathedral decoration.
Kievo-Pecherska Lavra is closely connected with Ukrainian chronicles. The first chronicler was Venerable Nikon, Father Superior of the Pechersky Monastery. He finished his great Chronicle about 1113. Another unique work of literature, Kiev-Pechersk Paterikon, was written in the monastery in the 13 century. The Pechersk Monastery was an important spiritual, social, cultural and educational centre. It played an important part in the unification of Eastern Slavonic Lands. The monastery was honoured in Poland, Armenia, Byzantine, Bulgaria and other countries.